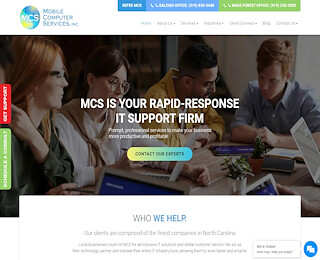 If your organization could benefit from managed IT in Raleigh, then you are in the right place now. Mobile Computer Services welcomes you. We are the leading IT managed services provider in North Carolina, providing a full suite of helpful services when our clients need them most. Whether you're having a problem now or are looking for the help you need to prevent a problem from arising, we would love to discuss your managed IT needs with you. Remember, when it comes to IT, outsourcing is almost always the best solution!
Why You Need an IT Pro
When it's time to hire a managed IT services provider in Raleigh, you need a certified professional to take care of it for you. Chances are; you probably have a guy or a gal in-house who is very tech-savvy and nimble when it comes to addressing, troubleshooting, and fixing IT problems. However, there are a lot of things that only an experienced and knowledgeable IT expert can do. Today, organizations can't risk excessive downtime or mistakes. Will your employee leave your WiFi exposed to everybody and their mother? Will they leave your server signed on with a remote access connection? Can you afford it if this happens? Of course, these are just a couple of basic examples.

Again, the point is that you need an IT expert or a team of IT experts that is dependable and reliable. Sure, you could hire a certified professional who works for themselves, but what will you do when that person becomes sick, goes on vacation, or becomes too busy to give your organization the direct care and attention that you need?
Why Choose Mobile Computer Services?
When you choose Mobile Computer Services for managed IT in Raleigh, you are getting the services of a company that only hires certified IT professionals, provides your team with help desk support, and even onsite technical support as needed. This way, your people can stay productive and not get bogged down with challenges and disruptions. Mobile Computer Services can keep your systems running optimally with onsite and remote managed IT services.
From help selecting the right hardware and software for your company to cabling and computer setup; this is just the beginning of our services! Mobile Computer Services is there every step of the way to ensure that your needs are met and that issues are nipped in the bud before they become problems. With 24/7/365 monitoring, you can rest assured that we mean what we say. With constant monitoring, if something goes wrong, say, during the night while your office is closed, we can notify our technicians and help desk so that they'll be on it first thing in the morning.
Contact Mobile Computer Services for a Quote
If you would like a no-cost, no-obligation assessment of your security, just give us a call or fill out the request form right here on our website. We'll talk to you and schedule a time that is convenient for you to send a technician to your office. Let us show you why Mobile Computer Services is the best choice for managed IT in Raleigh.
Managed It Raleigh
Mobile Computer Services, Inc.
9198309448
8009 Creedmoor Rd Ste 200
Raleigh
NC
27613
View Larger Map